ISABELA ISLAND DAILY TOUR
DAY 1
Experience a captivating daily excursion to Isabela Island, including snorkeling at the enchanting Islote de las Tintoreras. Located a short 10-minute boat ride from Puerto Villamil, this secluded islet is renowned for its serene lava crack and crystal-clear waters, providing a resting place for white tip fin sharks known as "tintoreras." Witness these magnificent creatures basking on the vertical walls and encounter numerous marine iguanas enjoying the warmth of the morning sun in the turquoise lagoon.
Departure: Santa Cruz, boarding pier.
Boarding time: 7:00 a.m.
Journey from Santa Cruz Island to Isabela Island: 2 hours.
Arrival at Isabela Island: 9:00 am
Guided walks: Wetlands, giant turtle breeding center.
Sailing time from Isabela Island to Islote de las Tintoreras: 10 minutes.
Snorkeling duration: 45 minutes.
Wildlife sightings: Giant tortoises, flamingos, land iguanas, white fin sharks, sea lions, reef fish.
Meals: Lunch, snack, water.
Concludes: 5:00 pm
Inclusions: Professional bilingual guide, transportation, snorkeling equipment, Hotel.
Exclusions: Isabela Island entrance tax – $5 for locals, $10 for foreign visitors.
DAY 2
Explore the magnificent Tunnels, an exceptional site for surface diving due to its calm, clear, and shallow waters. This unique location showcases remarkable geological formations, with lava flows creating numerous arches and tunnels both above and below the water's surface, providing shelter for various species of marine fauna found in the Enchanted Islands. Please note that certain low tides may generate strong waves, primarily from June to December, making entry into the Tunnels challenging.
Departure: Isabela Island, hotel.
Boarding time: 7:00 am
Sailing time from Isabela to Tunnels Island: 1 hour.
Guided visits and walks: Exploring the tunnels.
Snorkeling duration: Two sessions of 45 minutes each.
Wildlife sightings: Blue-footed boobies, rays, starfish, penguins, seahorses, sharks, sea turtles, reef fish.
Meals: Lunch, snack, water.
Concludes: 1:00 pm
Inclusions: Professional bilingual guide, transportation, snorkeling equipment.
1:30 pm Return to Puerto Ayora.
2:30 pm Speedboat transfer back to Santa Cruz Island.
5:00 pm Arrival in Puerto Ayora (Santa Cruz).
Named in honor of Queen Isabel I of Castile, who sponsored Christopher Columbus' voyage, Isabela Island (also known as Albemarle Island) is the largest landmass in the Galapagos archipelago, spanning an impressive area of 4588 km² and accounting for 58% of the total land area. The island's distinctive shape is a result of the amalgamation of five major volcanoes – Cerro Azul, Sierra Negra, Salcedo, Darwin, and Wolf – forming a single mass. With a population of approximately 2200 inhabitants, Isabela Island is home to various fascinating species, including penguins, marine iguanas, flightless cormorants, blue-footed boobies, pelicans, zayapas, and blue sharks. The island's diverse terrain, encompassing the foothills and calderas of its six volcanoes, supports a thriving population of giant tortoises, land iguanas, finches, pigeons, hawks, and an array of intriguing vegetation. Situated at the southern tip of the island, Puerto Villamil (also known as Albemarle) serves as the third-largest human settlement in the Galapagos archipelago and acts as the primary port for Isabela Island.
$
390
Accommodation in double room
Tourist Superior Class
Price
$
460
Accommodation in double room
$
590
Accommodation in double room
HOtel TOurist SUPERIOR Class
HOtel Tourist FIRST Class
We focus on our growth and on providing an unforgettable experience to our customers.
Successful Galapagos Tours​
Galapagos tours classification
wonderful, incredible, it is simply a natural enchantment, a paradise on earth, that's Galapagos.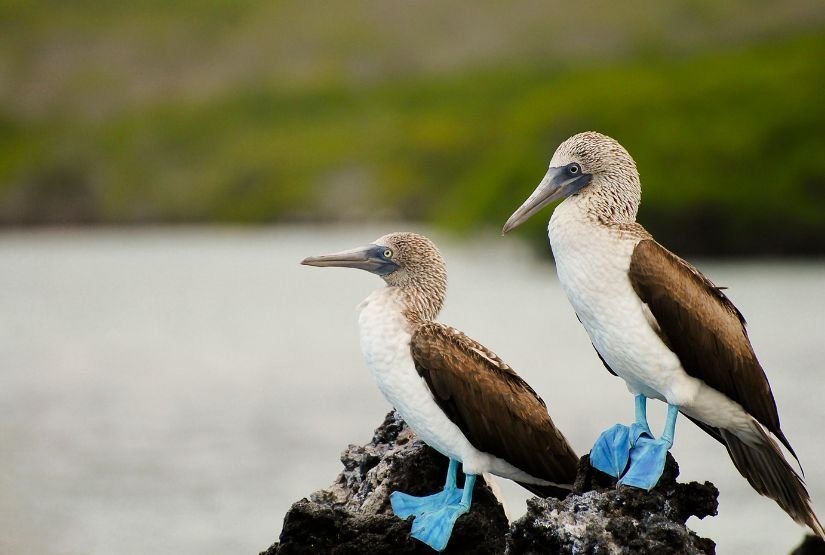 Best way to visit the Galapagos This trip was excellent. The Calypso was the perfect size (16 pax). You could get to know the other guests, and transit to the islands was easy in two landing craft. The rooms were comfortable, and the food was plentiful, creative, and delicious. Best of all, our guide Eduardo was funny, knowledgeable, and really helpful when we were snorkeling. His English was perfect. I was concerned sending money to what appeared to be a casually run business, but they delivered everything promised. I'm very satisfied with this experience, and the family loved the trip.
Highly recommend, great tour company!! Great tour company to see the Galapagos - Rodrigo was responsive and helpful over Whatsapp during the booking process, and provided very detailed and clear information about what to expect. The company actually works with other tour companies as well, so you join different tours everyday with different companies and you get to meet different people each time, which is awesome. It also means that they can be flexible and amend the activities depending on what you want to see and do. You get briefed on your itinerary when you arrive, and can ask questions on Whatsapp whenever you want (although wifi signal is poor on the islands!), so we felt reasonably well informed. The tours were all well organised, the guides were friendly and knowledgeable, and the food was amazing.
Amazing. I had a great time on board of the Millenium catamaran (5 day cruise). The staff was really friendly en helpfull, the guide could tell us so much about all of the animals living there and the facilities on the Millennium were perfect (for example the possibility to rent a wetsuit en snorkeling equipment). The meals were very good as well. I would highly recommend this agency.
Unforgettable experience with perfect arrangement I booked a series of tours 6 days in a row and every tours were almost perfect and unforgettable experience.They arranged every transportations (every driver picked me up in front of my hotels, airports and port wherever I arrived or departed), accommodations, breakfast, lunch and of course my customized tours. Some of tours cannot cancel or book in a last minute due to complexities or capacities, but better to ask.If they could provide a detailed itinerary in advance online, they will be perfect.
cj922012
10 February 2023
Great cruise, reliable and honest company! Rodrigo booked our 8D/7N cruise and flights around the Galápagos Islands (north east and south) whilst we were travelling in Colombia. We had an amazing time on the cruise and are very grateful for Rodrigo's patience as we worked out how to do the bank transfer, and find the funds for the trip! It was a really daunting experience putting trust in a company / person when you are in a different country, especially large sums of money - Rodrigo understood and was very reliable sending the confirmation email and tickets and checking us into our flights. We also accidentally transferred $70 too much and Rodrigo let us know and we came to collect it in his Quito office - very honest! Did I mention that we also had the most amazing time! Was a highlight of our South America travels! Would wholeheartedly recommend for a last minute deal!
FamilyVic
16 January 2023
Amazing Travel Experience to the Galapagos Rodrigo Canchig at Galapagos Natural Life organized a trip for me and my family, a group of 11 people. We had an 8 night cruise on the Beluga Yacht around Isabela Island, and a few days in mainland Ecuador before and after. Our experience was amazing, and everything was so well organized that we could just enjoy it without any worries.The boat was very comfortable, and the staff were amazing. The food was good, everything was always clean, the panga drivers were very skilled and everyone was so attentive to our needs. Our naturalist, Richard Ruiz, was great. He was very organized, knowledgeable, and responsive to everyone's needs and expectations.Rodrigo also helped us organize transport around Quito, and our driver was also great - always on time, very kind and a good driver.If you are organizing a trip to the Galapagos and Ecuador, I highly recommend contacting Rodrigo at Galapagos Natural Life.
Jimmy Salazar
9 January 2023
Primero Ecuador luego el mundo 🌎 El tour de túneles en Isabela, un encuentro con todas las especies de las Islas Galápagos. Asombroso el
Galapagos 7 night cruise Rodrigo Canchig at Galapagos Natural Life was excellent in helping plan all aspects of our Galapagos trip and more - He was reliable, prompt with all responses, and highly organized. Our 7 night boat tour to Galapagos onboard the Beluga required a lot of planning as we were a big family group with teens, and Rodrigo was attentive throughout. Our boat trip was perfect, and all the details we asked for were included. Rodrigo also helped us book car/drivers and flights for other parts of our trip when we requested. We were 100% happy with our experience with Galapagos Natural Life, specifically Rodrigo (reservacionesgalapagos@gmail.com). Note that he also runs Galapagoslastminute - it is the same Rodrigo!
Brenda H
24 December 2022
Fantastic travel agency for Galapagos trip! After much research on this site and others, I decided to book our Galapagos Cruise with Galapagos Natural Life (online at galapagoslastminute). I wanted to support a local Ecuadorian agency and boat. They were fantastic! From my very first inquiry online to leaving Ecuador, Rodrigo was only an email or WhatsApp message away. He answered all my questions, usually within an hour any time of day. Rodrigo books and handles reservations for many local ship operators. We picked the luxury boat, Alya. Wow, was it fantastic! I will write a review about the boat and cruise under Alya. I was nervous to send so much money to an Ecuador bank and tried to do some research to make sure it wasn't a scam. When Rodrigo but a hold on a cabin for me I went to the extra effort to see that another travel site now showed 1 less cabin for my cruise, so I was hopeful this was a reliable travel agency. Galapagos Natural Life was not only a reliable agency but very well organized and informative. After all decisions were made about what we wanted to do, Rodrigo booked and sent us all our cruise tickets and air flight tickets, and all the information we needed for the Galapagos fees and transit cards. We also booked their "Quito Extension" tour and had a 2 day tour of Quito highlights with a private driver. Rodrigo booked our Quito hotel as part of this tour, and had a driver meet us at the airport, take us to the hotel and return us to the airport at the end of our trip. I usually organize all these things myself when we travel but it was a nice touch especially when I don't speak Spanish and have never been in South America. He also had a company representative meet us at the airport on the day we flew over to Galapagos, and she made sure we were all booked in with our Galapagos transit cards and fees paid. After all the back and forth WhatsApp messages with Rodrigo, I felt like I knew him, so it was nice that he took the time to stop by our Quito hotel and introduce himself and make sure their wasn't anything else we needed. If you want to book a local Galapagos cruise or land tour I highly recommend Galapagos Natural Life.
The Galapagos For my 60th birthday, my husband took me to the Galápagos Islands. Because it is a National Park, you have to be accompanied by a certified naturalist guide, so we chose the tour group Natural Habitat. It was wonderful. We did a very active tour, with hiking, snorkeling and kayaking every day from a 72 foot catamaran. There were 2 naturalists, 7 crew members and 10 tourists (total). The guides were a fount of information, helpful and fun to be around. The snorkeling was a major highlight. We swam with sea turtles, sea lions and tons of fish. The experience as amazing, and I cannot recommend it any higher