THE WELL OF THE FLAMINGOS
Itinerary Galapagos Island Hopping 3 days
Santa Cruz Island
Arrival to Galapagos Island, Baltra Airport.
Transfer from Baltra Airport to Santa Cruz Island.
Visit the Highlands in Santa Cruz Island.
Lunch
Check In Hotel (First, Tourist Superior or Tourist Class) in Puerto Ayora, Santa Cruz Island.
Briefing for next day activities.
Places to Visit:
Highlands: Visit to the El Chato 1, El Chato 2 or Primicias Farm, in any of these you can see the Giant Galapagos Tortoises and the typical vegetation of Galapagos.
Are you prepared to discover the splendor of the Galapagos Islands?
Come join us on an extraordinary expedition to El Chato or Primicias Farm, where you'll observe the grandeur of the Giant Galapagos Tortoises as they freely wander in their native environment. Immerse yourself in the varied plant and animal life of this remarkable group of islands as our proficient guides lead you on an unforgettable escapade. With awe-inspiring vistas and indelible encounters, our Highland tour is ideal for nature enthusiasts and thrill-seekers alike.
Are you ready to behold the majestic allure of the Galapagos?
You'll have the opportunity to intimately experience these graceful behemoths as they roam unrestrictedly in their inherent surroundings. And that's not all – explore the breathtaking lava tunnels, shaped by ancient volcanic activity. Our well-informed guides will ensure that you forge enduring memories while acquiring knowledge about the history and ecology of this exceptional destination.
Details:
Animals to see: Giant tortoises in their habitat, Land Iguanas, Crabs and birds.
What do you bring: Sunscream, Repellent, Light clothing, Binoculars, Camera, swimsuit and water.
Include: Professional bilingual guide, Transport, Lunch, Hotel Accommodation.
Not Included: Lobbito Buss $5, Dinner, Tips and Additional Expenses.
Notes:
We can't guarantee that you will see all the animals, since they are in wildlife.

If it is only a passenger, the first day does not include a guide.
Bartolome Island
Pickup from your hotel in Puerto Ayora, Santa Cruz Island.
Departure Time between 06:00 am and 07:00 am.
Transfer from Ayora Port to Itabaca Channel (45 minutes).
Sailing time from Itabaca Channel to Bartolome Island (2 hours).
Arrival at Bartolome Island at approximately 08:45 am.
2 Hours of trekking on Bartolome Island.
Lunch.
Snorkeling at Sullivan Bay.
Return to Santa Cruz at 14:15 pm.
Arrival in Santa Cruz at approximately 17:00 pm.
Transfer to your hotel.
Briefing for next-day activities.
Places to Visit:
   Bartolome Island: Named in honor of Sir Bartholomew Sulivan of the British Navy. It covers an area of ​​1.2 km² and reaches a maximum altitude of 114 meters. This island presents some of the most stunning landscapes in the archipelago. It consists of an extinct volcano and a variety of volcanic formations in shades of red, orange, green, and glossy black. The lava cactus of the Galapagos thrives in the new lava fields. One of the iconic landmarks on this island is the famous Pinnacle, which represents the essence of the archipelago. Here, you can enjoy diving and snorkeling with penguins, sea lions, white tip reef sharks, and other tropical fish. During certain seasons, Bartolome becomes a mating and nesting site for green turtles. The bay also offers excellent opportunities for swimming. The twin bays are separated by a narrow isthmus.
   Sullivan Bay: This unique landscape features a pair of eroded scoria lava cones that were engulfed by a relatively recent pahoehoe lava flow, making it one of the most impressive sights in the world.
Details:
Animals to see: Sea lions, reef fish, sea turtles, penguins.
Activities: Trekking and Snorkeling.
What to bring: Sunscreen, Insect repellent, Light clothing, Binoculars, Camera, Swimsuit.
Includes: Breakfast, Professional bilingual guide, Transportation, Lunch, Snacks, Water, Hotel Accommodation, and Snorkeling Equipment.
Not Included: Dinner, Tips, and Additional Expenses.
Notes:
We cannot guarantee sightings of all animals, as they are in their natural habitat.
Santa Cruz Island
Morning meal
Pickup from your lodging in Puerto Ayora, Santa Cruz Island.
Transportation to Twin Craters on Santa Cruz.
Exploration of Twin Craters.
Transfer from San Cristobal to Baltra Airport.
Return Flight to Quito.
Places to Visit:
     Twin Craters: The Twin Craters, despite their name, are not actual craters. These impressive depressions were formed by lava domes, with hardened exteriors and molten interiors, creating vast hollow chambers that eventually collapsed over time, resulting in this awe-inspiring landscape resembling two pit-like craters. Situated in the highlands of Santa Cruz Island, the Twin Craters are enveloped by lush, verdant forests dominated by the endemic Scalesia plants. Visitors have the opportunity to stroll along the rim of the craters, offering a better perspective of their magnitude, as well as a chance to observe the unique flora and fauna of the area. This location is also known for being a prime spot to catch a glimpse of the endemic short-eared owl of the Galapagos.
Details:
Activities: Hiking
What to bring: Sunscreen, Insect repellent, Lightweight clothing, Binoculars, Camera.
Includes: Breakfast, Transportation.
Not Included: Lobbito Bus $5, Guide, Dinner, Lunch, Tips, and Additional Expenses.
Notes:
We cannot guarantee sightings of all animals, as they are in their natural habitat.
Please note that a guide will not be provided for this day, only a driver.
$
1317
Accommodation in double room
Tourist Superior Class
Price
$
1499
Accommodation in double room
$
2243
Accommodation in double room
HOtel TOurist SUPERIOR Class
HOtel Tourist FIRST Class
We focus on our growth and on providing an unforgettable experience to our customers.
Successful Galapagos Tours​
Galapagos tours classification
wonderful, incredible, it is simply a natural enchantment, a paradise on earth, that's Galapagos.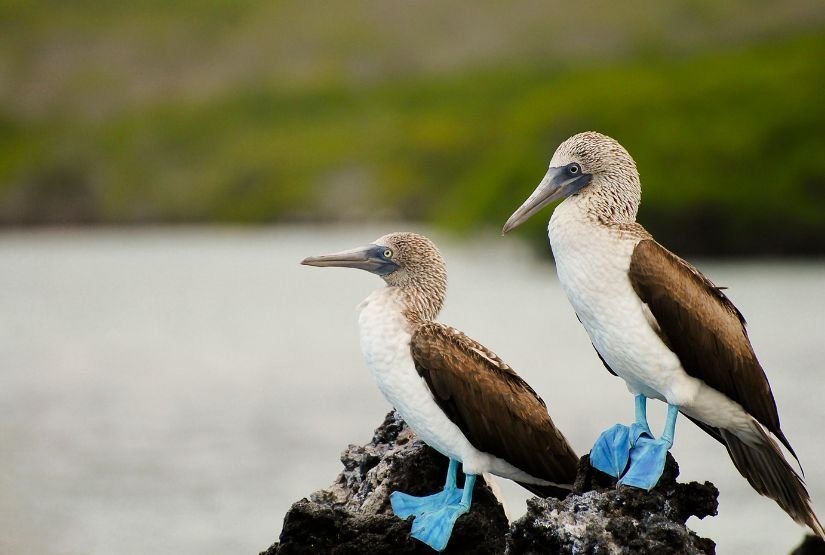 Best way to visit the Galapagos This trip was excellent. The Calypso was the perfect size (16 pax). You could get to know the other guests, and transit to the islands was easy in two landing craft. The rooms were comfortable, and the food was plentiful, creative, and delicious. Best of all, our guide Eduardo was funny, knowledgeable, and really helpful when we were snorkeling. His English was perfect. I was concerned sending money to what appeared to be a casually run business, but they delivered everything promised. I'm very satisfied with this experience, and the family loved the trip.
Highly recommend, great tour company!! Great tour company to see the Galapagos - Rodrigo was responsive and helpful over Whatsapp during the booking process, and provided very detailed and clear information about what to expect. The company actually works with other tour companies as well, so you join different tours everyday with different companies and you get to meet different people each time, which is awesome. It also means that they can be flexible and amend the activities depending on what you want to see and do. You get briefed on your itinerary when you arrive, and can ask questions on Whatsapp whenever you want (although wifi signal is poor on the islands!), so we felt reasonably well informed. The tours were all well organised, the guides were friendly and knowledgeable, and the food was amazing.
Amazing. I had a great time on board of the Millenium catamaran (5 day cruise). The staff was really friendly en helpfull, the guide could tell us so much about all of the animals living there and the facilities on the Millennium were perfect (for example the possibility to rent a wetsuit en snorkeling equipment). The meals were very good as well. I would highly recommend this agency.
Unforgettable experience with perfect arrangement I booked a series of tours 6 days in a row and every tours were almost perfect and unforgettable experience.They arranged every transportations (every driver picked me up in front of my hotels, airports and port wherever I arrived or departed), accommodations, breakfast, lunch and of course my customized tours. Some of tours cannot cancel or book in a last minute due to complexities or capacities, but better to ask.If they could provide a detailed itinerary in advance online, they will be perfect.
cj922012
10 February 2023
Great cruise, reliable and honest company! Rodrigo booked our 8D/7N cruise and flights around the Galápagos Islands (north east and south) whilst we were travelling in Colombia. We had an amazing time on the cruise and are very grateful for Rodrigo's patience as we worked out how to do the bank transfer, and find the funds for the trip! It was a really daunting experience putting trust in a company / person when you are in a different country, especially large sums of money - Rodrigo understood and was very reliable sending the confirmation email and tickets and checking us into our flights. We also accidentally transferred $70 too much and Rodrigo let us know and we came to collect it in his Quito office - very honest! Did I mention that we also had the most amazing time! Was a highlight of our South America travels! Would wholeheartedly recommend for a last minute deal!
FamilyVic
16 January 2023
Amazing Travel Experience to the Galapagos Rodrigo Canchig at Galapagos Natural Life organized a trip for me and my family, a group of 11 people. We had an 8 night cruise on the Beluga Yacht around Isabela Island, and a few days in mainland Ecuador before and after. Our experience was amazing, and everything was so well organized that we could just enjoy it without any worries.The boat was very comfortable, and the staff were amazing. The food was good, everything was always clean, the panga drivers were very skilled and everyone was so attentive to our needs. Our naturalist, Richard Ruiz, was great. He was very organized, knowledgeable, and responsive to everyone's needs and expectations.Rodrigo also helped us organize transport around Quito, and our driver was also great - always on time, very kind and a good driver.If you are organizing a trip to the Galapagos and Ecuador, I highly recommend contacting Rodrigo at Galapagos Natural Life.
Jimmy Salazar
9 January 2023
Primero Ecuador luego el mundo 🌎 El tour de túneles en Isabela, un encuentro con todas las especies de las Islas Galápagos. Asombroso el
Galapagos 7 night cruise Rodrigo Canchig at Galapagos Natural Life was excellent in helping plan all aspects of our Galapagos trip and more - He was reliable, prompt with all responses, and highly organized. Our 7 night boat tour to Galapagos onboard the Beluga required a lot of planning as we were a big family group with teens, and Rodrigo was attentive throughout. Our boat trip was perfect, and all the details we asked for were included. Rodrigo also helped us book car/drivers and flights for other parts of our trip when we requested. We were 100% happy with our experience with Galapagos Natural Life, specifically Rodrigo (reservacionesgalapagos@gmail.com). Note that he also runs Galapagoslastminute - it is the same Rodrigo!
Brenda H
24 December 2022
Fantastic travel agency for Galapagos trip! After much research on this site and others, I decided to book our Galapagos Cruise with Galapagos Natural Life (online at galapagoslastminute). I wanted to support a local Ecuadorian agency and boat. They were fantastic! From my very first inquiry online to leaving Ecuador, Rodrigo was only an email or WhatsApp message away. He answered all my questions, usually within an hour any time of day. Rodrigo books and handles reservations for many local ship operators. We picked the luxury boat, Alya. Wow, was it fantastic! I will write a review about the boat and cruise under Alya. I was nervous to send so much money to an Ecuador bank and tried to do some research to make sure it wasn't a scam. When Rodrigo but a hold on a cabin for me I went to the extra effort to see that another travel site now showed 1 less cabin for my cruise, so I was hopeful this was a reliable travel agency. Galapagos Natural Life was not only a reliable agency but very well organized and informative. After all decisions were made about what we wanted to do, Rodrigo booked and sent us all our cruise tickets and air flight tickets, and all the information we needed for the Galapagos fees and transit cards. We also booked their "Quito Extension" tour and had a 2 day tour of Quito highlights with a private driver. Rodrigo booked our Quito hotel as part of this tour, and had a driver meet us at the airport, take us to the hotel and return us to the airport at the end of our trip. I usually organize all these things myself when we travel but it was a nice touch especially when I don't speak Spanish and have never been in South America. He also had a company representative meet us at the airport on the day we flew over to Galapagos, and she made sure we were all booked in with our Galapagos transit cards and fees paid. After all the back and forth WhatsApp messages with Rodrigo, I felt like I knew him, so it was nice that he took the time to stop by our Quito hotel and introduce himself and make sure their wasn't anything else we needed. If you want to book a local Galapagos cruise or land tour I highly recommend Galapagos Natural Life.
The Galapagos For my 60th birthday, my husband took me to the Galápagos Islands. Because it is a National Park, you have to be accompanied by a certified naturalist guide, so we chose the tour group Natural Habitat. It was wonderful. We did a very active tour, with hiking, snorkeling and kayaking every day from a 72 foot catamaran. There were 2 naturalists, 7 crew members and 10 tourists (total). The guides were a fount of information, helpful and fun to be around. The snorkeling was a major highlight. We swam with sea turtles, sea lions and tons of fish. The experience as amazing, and I cannot recommend it any higher